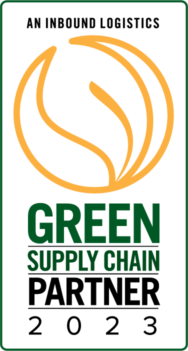 Posted on: June 9, 2023
Driving Towards A Sustainable Future
KAG honored as a 2023 Green Supply Chain Partner by Inbound Logistics.
The global economy is expanding, and so is the importance of sustainable and environmentally responsible practices. At KAG, we're not just talking about it; we're leading the way.
We're honored to be named a 2023 Green Supply Chain Partner by Inbound Logistics, reflecting our commitment to green practices within the supply chain.
For us, sustainability is a lifestyle, woven into every part of our operation. Here's how partnering with us can benefit your business and the planet:
Reduced Environmental Impact: Our initiatives like tire waste reduction and CO2 emission cutbacks make your business a part of the environmental solution, boosting your brand reputation.
Cost Savings Through Efficiency: By optimizing routing and using energy-efficient technologies, we save resources and cut costs, making sustainability smart for your bottom line.
Supply Chain Resilience: Our focus on sustainability means building resilient supply chains, ready to weather environmental challenges, thereby minimizing potential disruptions to your operations.
Meeting Sustainability Goals: Align your logistics with your sustainability objectives. As a 2023 Green Supply Chain Partner, KAG helps you reach your environmental targets.
Enhancing Corporate Social Responsibility (CSR): Collaborating with KAG shows your commitment to sustainability, amplifying your CSR efforts and resonating with socially conscious customers.
Partnering with KAG isn't just a choice; it's a chance to make a real difference. With us, you gain a reliable, efficient supply chain and contribute to a greener world.
Join us in driving towards a sustainable tomorrow. Learn more about KAG's green approach and how it can brighten your logistics strategy at www.thekag.com/sustainability.