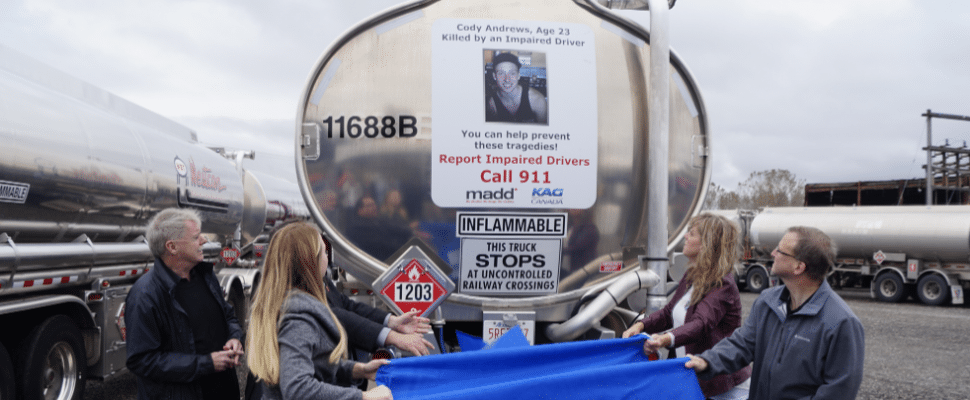 he family of Cody Andrews unveils his decal on the back of a Westcan truck. October 4, 2018. (Photo by Colin Gowdy, BlackburnNews)
Posted on: October 5, 2018
KAG Canada and M.A.D.D. Canada Team Up For Awareness Campaign
The family of Cody Andrews unveils his decal on the back of a Westcan truck. (Photo by Colin Gowdy, BlackburnNews)
SARNIA, Ontario, Oct. 04, 2018 (GLOBE NEWSWIRE) — Ontario motorists will soon be seeing a powerful illustration of the terrible toll taken by impaired driving as MADD Canada and RTL-Westcan Group of Companies launch a new mobile awareness effort.
RTL-Westcan, a bulk transportation company operating in Western Canada, the Northwest Territories and Ontario, is adding decals with the photos of two Ontario victims of impaired driving to 40 of its truck trailers. The decals, which will be seen by thousands of motorists a day, will share the stories of Cody Andrews, who was killed by an impaired driver in 2016, and Carol Grimmond, who was killed by an impaired driver in 2012.
Along with Cody's and Carol's photos will be a reminder to motorists to help police take impaired drivers off the roads by calling 911 to report any driver they suspect is impaired. Information on the signs of an impaired driver and tips on how to report him or her are available on MADD Canada's web site at: https://madd.ca/pages/programs/awareness-campaigns/campaign-911/.
The decals are the latest in an ongoing campaign that RTL-Westcan Group of Companies launched with MADD Canada in 2012, and are the first in Ontario. The campaign aims to raise awareness about the consequences of impaired driving, and empower people to report suspected impaired drivers to police.
Truck trailers with the new decals are being unveiled at a special event today at RTL-Westcan Group of Companies (KAG) facility in Sarnia. Joining MADD Canada and RTL-Westcan for the event are Cody's and Carol's families, Sarnia Mayor Mike Bradley, Sarnia Police Chief Norm Hansen and Ontario Provincial Police Inspector Chris Avery.
Twenty-three-year-old Cody Andrews was riding in a car in London, Ontario in September 2016 when it was hit by another vehicle. The other driver was twice the legal alcohol limit and travelling at excessive speed. Cody and another passenger in the car, Jerry Pitre, were killed.
Carol Grimmond was home for Thanksgiving weekend in 2012. She and her twin brother Colin were returning home from a birthday party for her grandfather when they were struck by an impaired driver travelling the wrong way on Highway 407 in Oakville. Carol was killed and Colin was seriously injured.
For Gladys Grimmond, Carol's mother, and Shauna and David Andrews, Cody's parents, the campaign is a valuable way that their loved ones' memories can help prevent a similar tragedy from happening to others.
"Carol's death was completely preventable," Gladys said. "By making people aware that they can call 911 if they see a driver they think is impaired, this campaign gives people an important way to alert police to a dangerous driver so they can take them off the road before something terrible happens."
"The photos and message show people that impaired driving takes the lives of innocent victims like Cody every day. We hope it motivates people to make safe, responsible choices and never put themselves or others at risk by driving impaired," Shauna said.
The decals are the latest in an ongoing campaign that RTL-Westcan Group of Companies launched with MADD Canada in 2012, and are the first in Ontario.
The other impaired driving victims featured on RTL-Westcan truck trailer decals are: Mike Knox, an Alberta teen killed in 1999;  Keisha Trudel, a teen from the Northwest Territories killed in 2008;  Brad and Krista Howe, a husband and wife – and parents of five children – who were killed in 2010; and Danille Kerpan, a 25-year-old Saskatchewan woman killed in 2014.
"Road safety is naturally a top priority in our business. This campaign is one way we can help raise awareness about the dangers of impaired driving and help keep our roads and communities safe," said Howard August, Vice President, Canadian Operations, RTL-Westcan. "Westcan has been proud to work with the families of victims in Western Canada, and now here in Ontario. We are touched by the courage and strength of Cody's and Carol's families, and we are honoured to share some small part of their loved ones' stories in the hope it will help prevent others from having to face the same terrible tragedy."
Impaired driving continues to be a leading cause of death in Canada, killing hundreds of people every year. Together with generous sponsors such as RTL-Westcan Group of Companies, MADD Canada is committed to stopping impaired driving and to supporting victims of this violent crime.
"This is a novel and effective way of getting the sober driving message out to a significant number of people," said MADD Canada National President Patricia Hynes-Coates. "Westcan's trucks are on the road every day and are seen by thousands of drivers.  We thank Cody's and Carol's families, and thank RTL-Westcan for its ongoing support and its commitment to prevent impairment-related crashes, deaths and injuries."
In all, 200 of RTL-Westcan's truck trailers in Western Canada and Ontario now have decals.
RLT-Westcan has been a valuable partner in MADD Canada's efforts to stop impaired driving for many years. In addition to the awareness messaging on its truck trailers, RTL-Westcan is a generous Corporate Sponsor of Project Red Ribbon, MADD Canada's holiday awareness campaign, and a National Sponsor of the School Assembly Program, an education initiative which is delivered to more than 1 million students across Canada each year.
About MADD Canada
MADD Canada (Mothers Against Drunk Driving) is a national, charitable organization that is committed to stopping impaired driving and supporting the victims of this violent crime. With volunteer-driven groups in more than 100 communities across Canada, MADD Canada aims to offer support services to victims, heighten awareness of the dangers of impaired driving and save lives and prevent injuries on our roads. For more information, visit www.madd.ca.
About the RTL-Westcan Group of Companies
RTL-Westcan, a subsidiary of The Kenan Advantage Group, Inc. is one of Western Canada's largest bulk transportation carriers, with more than 50 years' experience in dry and liquid bulk transportation. RTL-Westcan proudly serves over 500 customers in the energy, mining, construction, and agriculture industries and operates 20 locations across Western Canada, Ontario and the Western Arctic. The company was recently named one of Canada's Top Fleet Employers for a second consecutive year by Trucking HR Canada. RTL-Westcan has also been recognized by Canada's Safest Employers, Canada's 10 Most Admired, the Alberta Business Awards, and Alberta's Best Workplaces. The company is a proud supporter of MADD Canada (Mothers Against Drunk Driving).