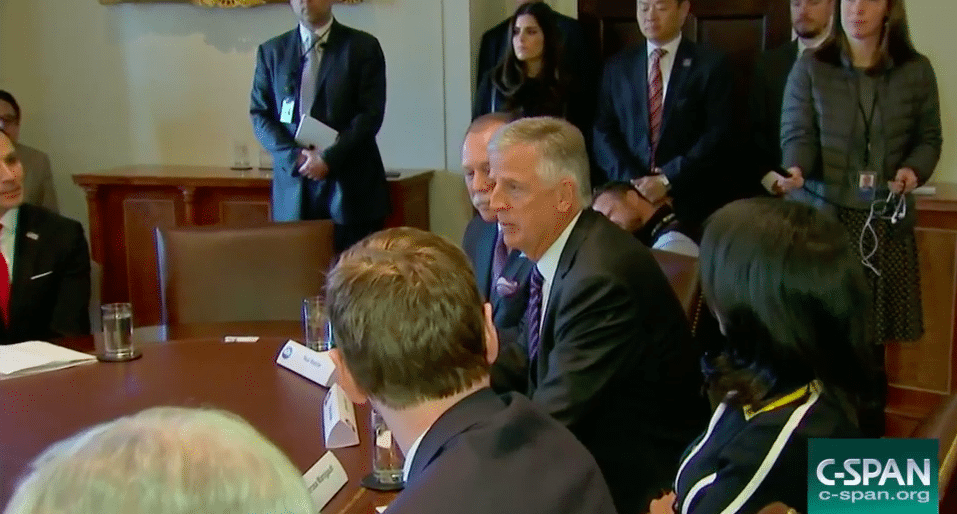 Posted on: April 14, 2017
CEO, Dennis Nash, and ATA Task Force Meet with President Trump
Eleven American Trucking Association leaders delivered policy message to White House on March 23rd
Dennis Nash, CEO of The Kenan Advantage Group, was greeted by President Donald Trump as he and other American Trucking Association (ATA) leaders visited the White House in March. They spoke with President Trump, Vice President Mike Pence and their staffs about health care, regulations, infrastructure and other important issues.
The trucking industry executives addressed the need to ease regulatory burdens on the industry, reform the tax system and rebuild America's infrastructure. ATA leaders indicated that replacing The Affordable Care Act will help trucking employees, their families and their customers by lowering insurance costs, decreasing mandates, liabilities and administrative burdens, and providing access to quality care and patient choice.
Trucking employs 1 out of 16 people and is the top job in 29 states in America. Trucking moves 70 percent of the nation's freight and 56 percent of the gross domestic product. The millions of people who work in the trucking industry are proud of the safety and dependability of their service to America, which first requires a healthy professional behind the wheel.
"No one knows America like truckers know America," stated President Trump when in discussion with the ATA task force regarding the hard work and dedicated services the industry devotes to our country. "You see it every day, and you see every hill and you see every valley and you see every pothole in our roads that have to be redone."
He added, "Obamacare has inflicted great pain on American truckers. Many of you were forced to buy health insurance on the Obamacare exchanges. You experienced a crippling rise in premiums [and costs] and a dramatic loss in options… You look at what's going on with deductibles where they're through the roof… we're going to do everything we can to make sure truckers stay busy moving American goods made by American companies and workers… We will rewrite our broken tax code and fix our terrible trade deals. We will also eliminate job-killing regulations where — you guys are so subject to regulations, and we're going to free it up. It's going to be freed up. You're going to be back to business. And we'll make sure America's infrastructure is the best in the world…"
In response to President Trump, ATA Chairman Kevin Burch said, "One thing is for certain, the professional men and women drivers in America are proud of hauling America's freight. We are here to tell you, Mr. President, that the trucking industry will support you as you work toward solving America's healthcare challenges. In addition, we look forward to working with you on improving our workplace, which is our highways."
The Kenan Advantage Group is proud to be part of the American Trucking Association – the largest national trade association for the trucking industry, which acts as the voice of the industry America depends on most to move our nation's freight.
The 11 leading ATA members in attendance were: ATA President and CEO Chris Spear, trucking executives: Jim Burg, president and CEO, James Burg Trucking Co., Warren, Mich.; ATA Chairman Kevin Burch, president, Jet Express Inc., Dayton, Ohio; David Congdon, CEO, Old Dominion Freight Line, Thomasville, N.C.; Mike Ducker, president and CEO, FedEx Freight, Memphis, Tenn.; Eric Fuller, CEO, U.S. Xpress Inc., Chattanooga, Tenn.; Neal Kedzie, president, Wisconsin Motor Carriers Association, Madison, Wis.; Rich McArdle, president, UPS Freight, Richmond, Va.; Dennis Nash, CEO, Kenan Advantage Group, North Canton, Ohio; Tonn Ostergard, president and CEO, Crete Carrier Corp., Lincoln, Neb., and John Smith, chairman, CRST International Inc., Cedar Rapids, Iowa.