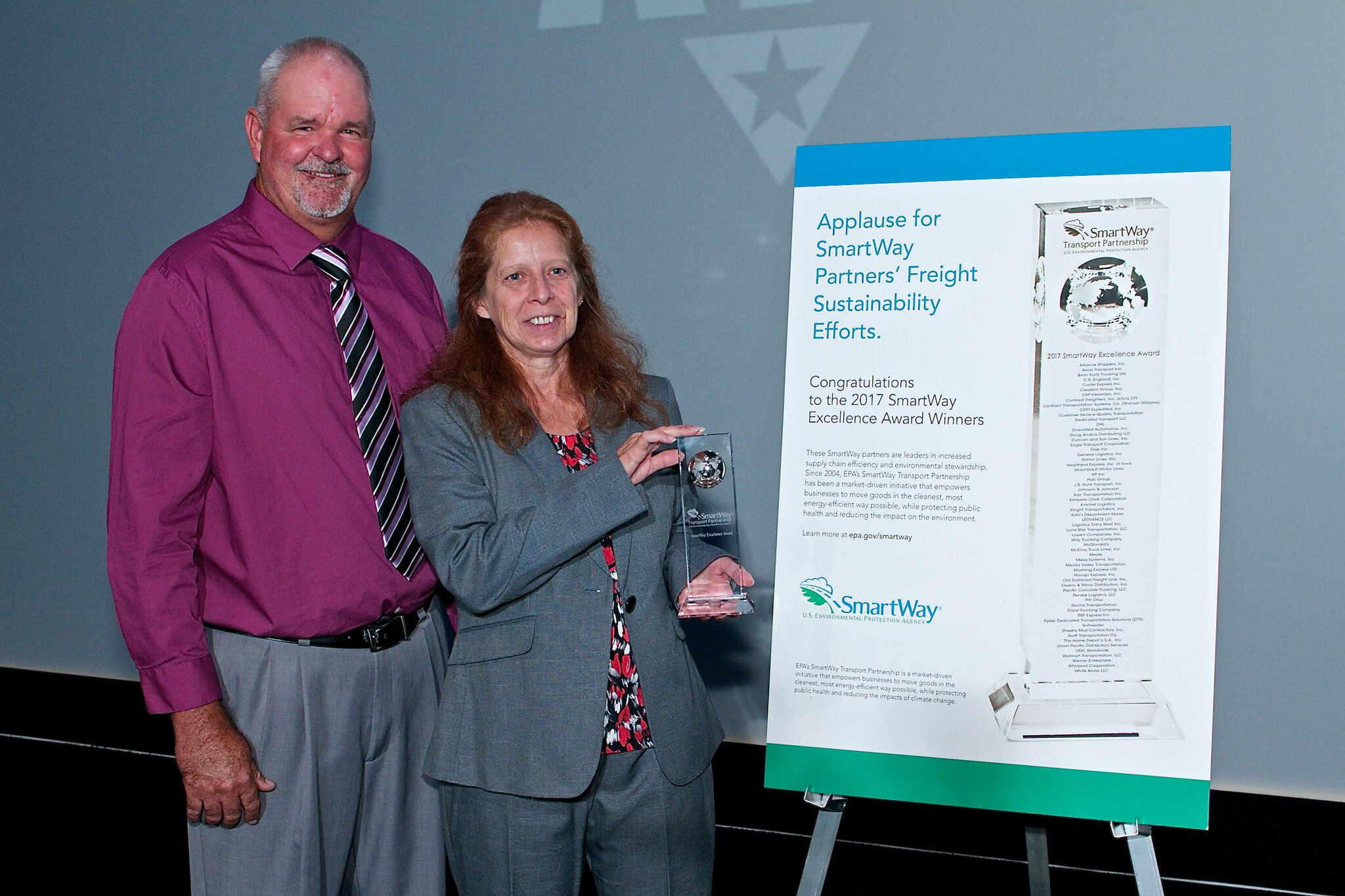 Posted on: November 14, 2017
Dedicated Transport is Winner of EPA 2017 SmartWay® Excellence Award
Dedicated Transport is Three-Time Winner of EPA 2017 SmartWay Environmental Excellence Award
NORTH CANTON, OH November 14, 2017 – The Kenan Advantage Group, Inc. (KAG), North America's largest bulk transportation and logistics provider, announced its subsidiary Dedicated Transport, LLC, was honored with the SmartWay® Excellence Award from the U.S. Environmental Protection Agency for the third consecutive year.
"We have achieved this success by running newer, more efficient power units and continually working to increase our loaded mileage ratios.  This allows us to provide more reliable service to our customers while reducing cost through fuel efficiency and the elimination of empty miles," says Tom Connolly, Dedicated Transport's Director of Logistics.   Connolly further states, "Dedicated Transport is committed to protecting the public welfare through our focus on safety and our commitment to the EPA's SmartWay® program."
The SmartWay® Excellence Award recognizes industry leaders in freight supply chain environmental performance and energy efficiency.  Dedicated Transport, one of 62 companies to receive this distinction, represents the top 2% of the best environmental performers of SmartWay's 3600 partners.
"Since 2004, EPA and the business community have collaborated through the SmartWay® Partnership to reduce the economic and environmental costs of goods movement, a vital sector of our national economy," said Christopher Grundler, Director of the EPA's Office of Transportation and Air Quality. These firms are not only serving the growing needs of their customers – they are also doing their part to keep our environment clean and protect human health."
The Excellence Awardees were honored at the American Trucking Associations Management and Exhibition Annual Conference held in Orlando, Florida on October 23, 2017.
About KAG
The Kenan Advantage Group, Inc. (www.thekag.com) operates through its five groups consisting of Fuels Delivery, Specialty Products (chemicals and liquid food), Merchant Gas, KAG Canada and Logistics. The company has terminal and satellite locations in 40 states and five Canadian provinces and territories, with the ability to deliver within all 48 contiguous states, Canada and Mexico. KAG also provides specialized supply chain logistics services through KAG Logistics (www.kaglogistics.com).