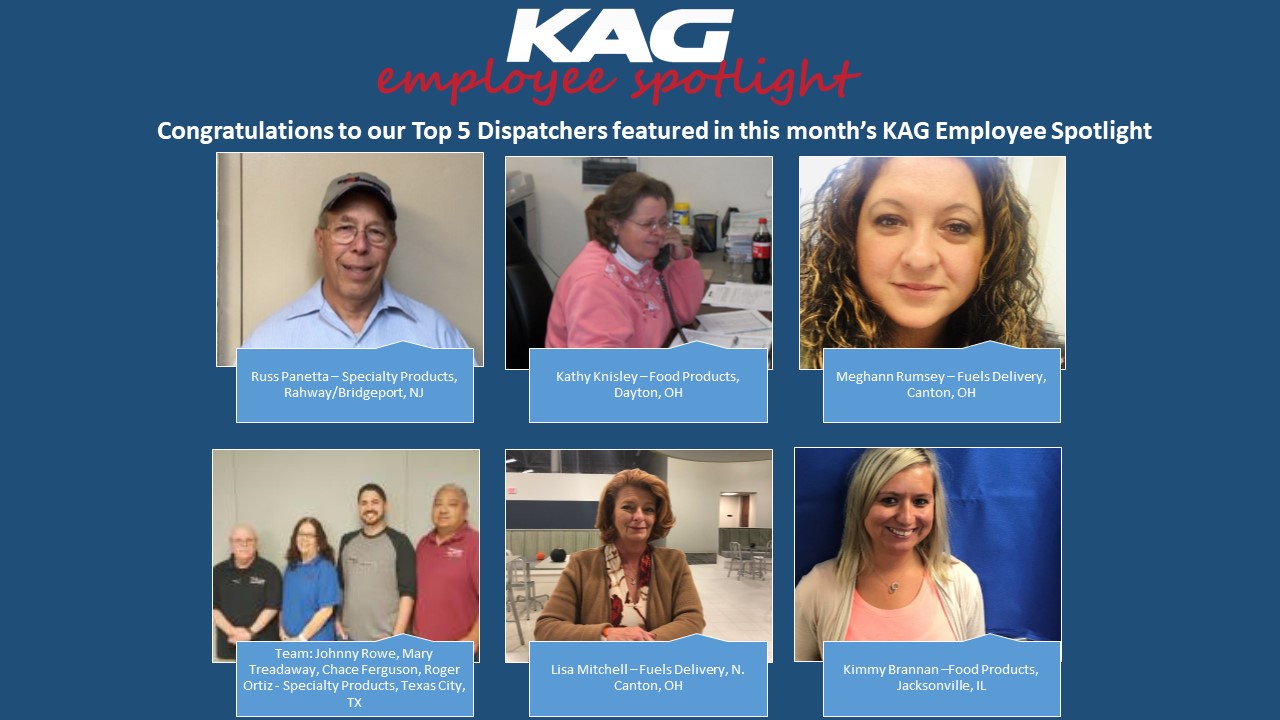 Posted on: November 15, 2018
KAG Employee Spotlight: A Focus on Our Dispatchers
This month's KAG Employee Spotlight focuses on our dedicated KAG Dispatchers.
We reached out to our Drivers and Managers across North America asking them to submit nominations for Dispatchers who go above and beyond their regular work to role model what it's like to be Dispatcher at KAG.  As always, we had an incredible response! And, with 237 nominations it was very challenging to choose only 5!  So, we selected a Dispatch Team as well!  Congratulations to all the nominees and thank you for all you do!
Russ Panetta
Nominated by Drivers Anthony Heath and John C. Moore
"I chose to work for Transport Service based on Russ' character," shared Driver Anthony Heath.  "I looked at several options – some with better pay, some with better benefits – but Russ Panetta's follow through was always above and beyond all the other companies.  He has proven to be the person and colleague I thought he would be."
Russ is always positive and he keeps his promises.  He shows respect to all of his Drivers while giving constructive criticism in a professional manner.
Kathy Knisley
Nominated by Terminal Manager Scott Francis and Driver Jeffrey Bowden
"I care about all of my Drivers and want the best for them.  I want them to arrive safe and on time to every delivery," said Kathy.  "My Drivers know that I am here for them 24/7.  I try to talk to each of them every day, whether it be in the office or on the phone.  I also try to put myself in their shoes – knowing that if I needed help, someone would take care of me—quickly and safely."
Kathy is committed to doing the right thing for KAG and for her Drivers.  She takes the time to learn about her Drivers and their families.  She is caring and compassionate.
Kathy's compassion for people can be seen through her actions.  One of our Drivers had an elderly mother who could not be left alone.  Kathy stayed with the mother so the Driver could work his weekend shift.  She has also been known to pick up Drivers for work if they have transportation issues.
Meghann Rumsey
Nominated by Terminal Manager Matt Krom and Director of Logistics Operations Mark Lloyd
Meghann is always going above and beyond to help Drivers, solve issues and supply customers with alternate solutions to improve efficiency.
She lives our mission of "Take every load".  "We had some high priority loads to deliver, but we didn't have enough Drivers carded at a specific terminal in order to get it done," said Mark Lloyd.  "Meghann called all of the local terminals to move capacity around to ensure the loads could be delivered.  She is always willing to take on a problem and look for a resolution."
Along with dispatching, Meghann has elevated her career to take on terminal training and higher level functions so that she can better serve KAG.
Meghann has been a team member for over 10 years with KAG. She started as a data entry temp, but that was just the beginning of her career. In her time to follow she has held numerus positions to include inventory management specialist, customer service representative, CRSC dispatcher, and currently the PCT Northeast Dispatch Operations Coordinator.
Lisa Mitchell
Nominated by Sr. Operations Manager Steve Paroda and Driver Gary Sparks
Lisa consistently works as a team player. She is proactive in her communication and seeks options when obstacles arise.  She is always professional and remains calm when confronted with issues. Lisa understands that regardless of the name of the division, we ALL work together to provide excellent service for OUR customers.
Last week Lisa contacted KAG Logistics to say that she would be short on Drivers for the upcoming weekend.  She went on to explain that she would have a decent amount of capacity on Thursday, a full crew on Friday and asked that we fill up sites heading into the weekend to avoid late loads and potential runouts. With that knowledge, we were able to reach out to customers, order extra deliveries and alleviate capacity constraints going into the weekend. The best part about Lisa's request is that she wasn't working the entire weekend; her counterpart works on Sunday. Not only was Lisa looking out for our customers, but she was looking out for her other Dispatchers!
Kimmy Brannan
Nominated by Terminal Manager Cheryl Davis and Driver Chris Boettger
Kimmy Brannan joined KAG in 2016 with no previous experience in the trucking industry.  But, she came with a willing attitude to learn.
Her success is due to her positive attitude and great listening skills.  She communicates respectfully to each of her Drivers and her Drivers communicate with this same level of respect in return.
"Drivers consistently tell me how awesome Kimmy is," said Terminal Manager Cheryl Davis.  She manages to accommodate their home lives without jeopardizing service to the customers.  Kimmy makes sure that her Drivers have a full week of work and that their equipment is serviced and safe.  She always considers their safety first, as her Drivers primarily run loads in the Iowa, Wisconsin, Nebraska and Minnesota areas where driving conditions can be dangerous.
Kimmy has been nominated by many Drivers for DTE awards and has had numerous Drivers request that she be their Dispatcher.  Quoting a text from one of her Drivers, "Kimmy is the best Dispatcher I have ever had.  She really cares about us."
Dispatch Team:  Roger Ortiz, Johnny Rowe, Mary Treadaway and Chace Ferguson
Nominated by Terminal Manager Nathan Massey
"Performance through adversity – that's what makes this dispatch team great," said Terminal Manager Nathan Massey.   When the former manager took a sudden leave, this team pulled together to keep operations running smoothly.  The process to find a new manager took almost a year.  But, through communication, collaboration and patience, the Texas City Dispatchers pressed on through a challenging transition.
Roger Ortiz' industry career began with Citgo as a Tank Washer, then with Enterprise when they purchased Citgo.  He has been a KAG Dispatcher in Texas City for eight years.
Johnny Rowe has been in the trucking industry for 46 years – 21 of those years have been with KAG as a Dispatcher in Texas City.
Mary Treadaway's career with KAG began as a temporary employee with Enterprise in 2011.  She accepted a full time Dispatch position in 2013.
Chace Ferguson also began his KAG career with Enterprise in 2008 at the Texas City terminal where he worked as a Tank Washer.  He has been a KAG Dispatcher since 2014.