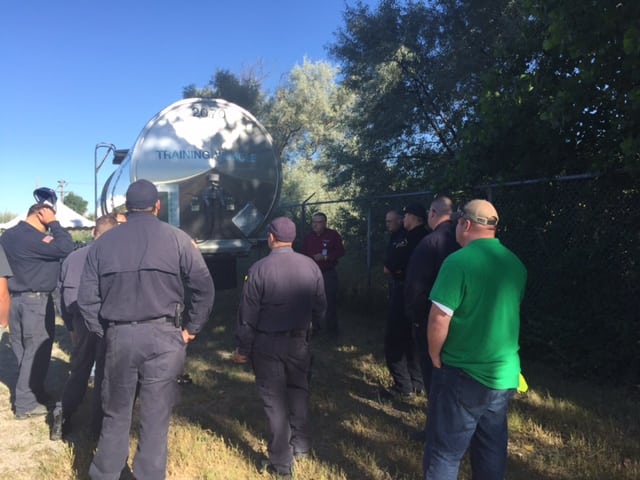 Posted on: August 11, 2016
Summary of 2016's Transcaer Hazardous Materials Training
Kenan Advantage Group (KAG), (www.thekag.com), North America's largest tank truck transporter and logistics provider, wrapped up the 2016 Midland Transcaer® (Transportation Community Awareness and Emergency Response) Training Tour in Midland, Michigan this summer. Through a partnership with The Dow Chemical Company, Firefighters Education and Training Foundation and many local supporting agencies, the four-day training focused on preparedness and response for hazardous material transportation incidents.
The Transcaer® training is a model-based curriculum, which was broken down into two training tracks focusing on crude emergency response. Track 1 offered a two-hour general awareness program that included Toxic by Inhalation Materials and Flammable Gas Incidents as well as a general safety overview. Track 2 provided a six-hour hands-on technician level training that included: rail car anatomy; tank truck emergencies; crude by rail emergencies and response; capping kits; leak mitigation and response; and toxic by inhalation materials.
"Community leaders were also invited and encouraged to attend an awareness course to help them learn how they can elevate their assistance and communication with the community in case of an emergency," said Dan Wright, Kenan Advantage Group Vice President of Safety, Security and Compliance.
The Midland, Michigan Tour is part of Dow's long-term sustainability commitment to provide improved community awareness and preparedness along chemical transportation routes, in coordination with national, regional and state TRANSCAER® programs. For more information on safety training, visit www.transcaer.com.
About Kenan Advantage Group
Kenan Advantage Group (www.thekag.com) is North America's largest tank truck transporter and logistics provider. The company operates through its five operating groups consisting of Fuels Delivery, Specialty Products, Merchant Gas, Logistics and KAG Canada. KAG's fleet consists of approximately 6,200 power units and 9,700 trailers. KAG also provides specialized supply chain logistics services through KAG Logistics (www.kaglogistics.com).