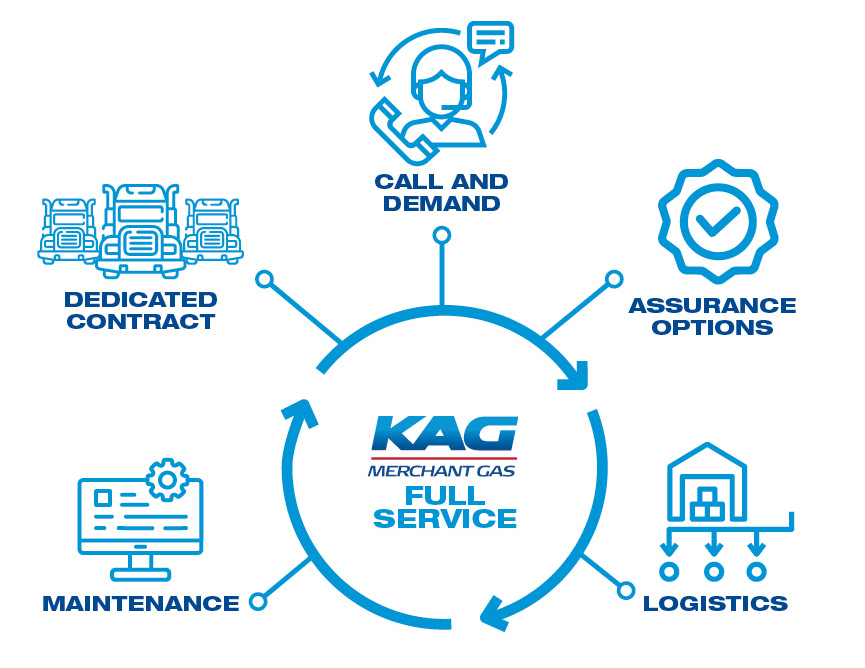 CALL AND DEMAND
With over 70 years of experience in the call and demand business and the largest footprint of any independent outsourced cryogenic carrier throughout the U.S., you can trust KAG to safely deliver your products with quick response times and competitive pricing at every turn.
Our Customizable Carrier Solutions Include:
Supplying significant call and demand capacity with high-quality product specific trained and certified

 

KAG Merchant Gas drivers to better meet all your seasonal and specialized needs
Guaranteed product security with our long-term performance and safety record
Providing you the largest for-hire optimized trailer fleet maintained at various KAG facilities throughout the U.S.

 

Offering you flexibility with our trailers or your shipper-owned trailers
Dedicated dispatch and logistics coordinators
Pricing available as per mile, lane, per day or per project based on what you the customer requires.

 
DEDICATED CONTRACT / PROJECT
KAG Merchant Gas offers comprehensive, customizable short- and long-term solutions with guaranteed specific resources to become the exclusive carrier for your facility, area or project.  Let us handle all aspects of transportation!
Our Customizable Carrier Solutions Include:
Full-service capabilities including transportation management, 24×7 dispatch, administrative, safety/training, and cryogenic maintenance
Dedicated Drivers and a vast array of specialized equipment to meet your unique needs and toughest challenges
Satellite locations to provide you with the most economical solutions by domiciling drivers close to the source
Utilizing our nationwide footprint and partner vendor facilities to quickly and efficiently deliver every time
Special project collaboration and tailored supply chain strategy to maximize value and reliability for you
Commitment to delivering you success in all your projects and objectives with guaranteed capacity and flexible custom-built solutions.
ASSURANCE OPTIONS
In today's world of supply chain challenges, force majeures, and plant outages, KAG Merchant Gas offers you customizable assurance plans, which reserve drivers and/or equipment availability guaranteed for you upon your call. These plans provide you the peace of mind that KAG will be there when the unexpected happens.
KAG Assurance options include customizable solutions that offer you driver call up assignments wherever you need them!
For more information or to Request A Quote, please contact:
Melissa Bradshaw, 620.786.9063, melissa.bradshaw@thekag.com
COMMODITIES HAULED
Argon
Carbon Dioxide
Hydrogen
Helium
High Pressure Cylinder Gases
Tube Trailer Gases
Liquid Ethylene
It's through our exceptional people, outstanding operational performance and commitment to safety that we remain the carrier of choice.